User

Experience &
Software Development

ShipBit is your partner for efficient and user-centric software development without overhead. We boost your team with our experience and get your project on the road quickly instead of being stuck in a ticket jam.
Services
Fully integrated development
We become part of your team and work hand in hand with you to achieve optimal results for your users - even in the long term! You will hardly notice that we are "external".
Autonomous software development
You have an existing project but no frontend developer, UX engineer or designer? Then we can also take over the development completely independently. In doing so, we play to our strengths as a well-coordinated team.
MVPs & Prototypes
Together we design and develop a Minimal Viable Product (MVP) in record time. We improve this step by step until the needs of your users are perfectly met.
Training & Workshops
Learn the latest technologies and best practices from our experienced experts. Either as a permanent part of your team or in customized workshops.
Consulting
Benefit from our expertise to bring your ideas to life or to convince your superiors. We deliver wireframes, designs and technical concepts.
Technology
We build complex business applications, apps, websites and games. We focus on the requirements of the project and are not afraid to learn something new. We have the most experience with the following technologies and frameworks:
Frontend
UX Research
Angular
Serverless
Svelte
Jamstack
AI
Vue.js
Web Components
React
Ionic
Flutter
TypeScript
Backend
Cloud
C#
Blazor
WPF
UI Design
AR/VR
Game Dev
Unity
Unreal
Godot
Portfolio
Unfortunately, we are not always allowed to talk about our customer projects. That's why we show you a selection of our own ideas here. These range from open source projects to apps and own products to personal hobbies.
Team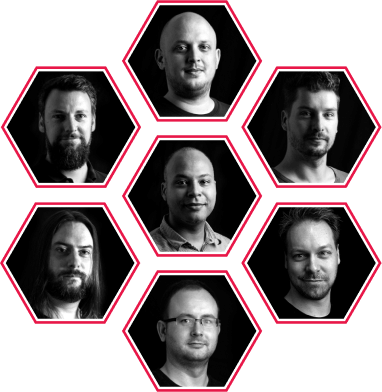 We are a well-rehearsed team of experienced senior developers and a UX/UI designer that has been successfully working together for years. We love modern and innovative projects, regardless of their size.
We work efficiently, save overhead and always put the end user in the focus of our development. We speak fluent German and English and are strong in discussions.
Blog
We find elegant solutions to interesting problems. Transparency and knowledge transfer are important to us and that's why we like to share our experience with other developers.
Contact us with your request!
Are you ready to put your software project on the fast track? We can't wait to hear more about your ideas and requirements. Contact us!